WAMAS Tank of the Month
Congratulations Robie, on being selected tank of the month.
About the Tank
Fish
11 Lyretail Anthias,
10 females - 1 male
16 Longspine Cardinalfish
(Apogon leptacanthus)
5 Blue/Green Reef Chromis,
1 True Percula Clowns
(Mated Pair)
2 Dragonface Pipefish
(mated Pair)
1 Purple Tank
1 Spot- Cheeked Tang
1 Copperband Butterfly
2 Yellow Wrasse
(Halichoeres chrysus)
1 Possum Wrasse
Experience in hobby
Q How long have you been doing this?
A I've been in this great hobby for 15 years.
Q Who got you into the hobby?
A I grew up near the ocean, which I love, surfing, scuba or snorkeling were always my favorite activities to do.
Q Who in the hobby most influences you?
A It's difficult to really point to one individual, there are so many methods of keeping a your tank healthy and thriving, and there are so many great reefers out there I would say one of the most methodic guys in that time that was an influence for me was John Nguyen (VA-Reefman) AKA Mr. Miyagui, that I think is no longer in the hobby.
Tank setup and equipment
The main display is a Glass Cages Euro braced tank, 180 gallon tank 6'x 2'x 2'. The sump, refugium and prop tank are custom built by a good friend of mine that helped me back in to the hobby, Pepe Venero aka "CubanVet", in the forums. Thanks Pepe!!!
The main pump is a Reeflo Dart. Circulation around the system is powered by Tunze Streams on a Tunze Multi-controller. The Protein skimmer, Calcuim reactor, Kalk reactor and fluidized reactor are all Grey Seas Aquatics custom build. I had different brands before but I swiched to GSA. I am very pleased to support a local Builder and good friend with his great products. I run an Aqua controller III by Neptune systems. My lights consist of 3 x 400w Raduims supplemented by VHO superactinics. The refugium runs in a reverse photoperiod from the main display. Cooling is accomplished with ½ hp Tradewind Chiller.

Corals
Lots….LOL
SPS
LPS
Softies

Q What is your maintenance schedule like?
A I clean the glass of the tanks every other day and once a week I do a 40 gallon water change and try do keep everything as clean as possible, filter socks, skimmer cup, Kalkwasser is added every 2 weeks to the reactor and the carbon in the fluidized reactor is replaced every 2 to 3 months.
Q What brand salt do you use??
A I have always used Instant Ocean from the very beginning.
Q What do you feed your fish and or corals?
A I feed different types of foods, dry and frozen. Ocean Nutrition different types, cyclopeeze, brine shrimp, mysid shimp, and GSA "ReefTrophic" reef food not yet available on the market. I also use Plank Automatic Feeder from GSA, soon to be available.
Q How do you maintain calcium/alkalinity?
A Calcuim via Calcuim reactor and Kalk reactor that is connected through my top off system maintans calcium and alkalinity were I want to.
Q Do you dose anything? If so, how much, how often?
A I really don't dose anything… but Kalk, there are so many productcs now available in the market but im trying to keep it as simple as possible.
Q Do you use vitamins or amino acids?
A No, I don't for now.
Q What type of lighting do you have and what schedule do you have them on?
A 3 x 400w Raduims supplemented by VHO superactinics & 3 moonlights
Photoperiod:
VHO1 on 11 am - off 11 pm
VHO2 on 12:30 pm - off 1am
MH1 on 12 pm - off 7 pm
MH2 on 12:30 pm -off 7:30 pm
MH3 on 1:00 pm - off 8 pm
Moonlight on 12:30 am - off 9am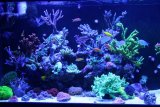 Q Where do you keep your water parameters?
A Specific gravity: 1.025 sg
pH: 8.25
Calcium: 465 ppm
Alkalinity: 9 dKH
Magnesium: 1300 ppm
Nitrate: undetectable
Phosphate: < .03ppm
Temperature: 78° F -79° F

Q Do you have any tricks or methods to keep your water parameters where you have them?
A No tricks really, a well setup and programmed system will pretty much help keep your system stable and your parameters were you want.
Q What kind of water flow do you have? How do you accomplish it?
A Main pump Reeflo Dart pump and also Tunze stream in a Tunze multi controller.
Q What are your future plans for improvement/upgrade of the tank?
A Take out all visible pumps in the system and install a 4 way from Oceans Motions, add another DC8 for my ACIII to be able to have the entire system hooked to the Controller.
Q What makes your setup special or unique?
A I think every setup is unique, could be a 10 gallon nano or a 1000 gallon High end $$$$ reef. I like to think that my tank is unique cause I put a lot of work building almost everything, I'm really focused not only how the tanks looks inside, but the outside must look as good, I built a mosaic stand that took me lot of time and work. I made a suspended floating canopy that I'm pretty pleased with. I really put a lot of work into everything.
Q If you had to start from scratch, would you do anything different?
A Nothing really, I guess the only thing I would do for sure if I were to start a new tank again is make 3" deep, the rest I would not change a thing. You know we are always upgrading things in this hobby. As long as I don't do any drastic changes in the "Method" you have Reef keeping.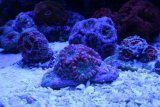 Personal
Q What are your other hobbies?
A Music, surf , scuba, tattoos, painting , photography
Q What kind of music are you into right now?
A I am pretty open to all types of music, but have a soft spot for Alternative
Q Who would you most like to meet past present or future?
A Past … my father, he died when I was very young.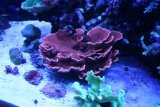 Q If you could go one place on earth where would it be?
A mmm… Great Barrier Beef, Red Sea and surfing Chicama longest left wave in the world!!!
Q Why did you choose the screen name you did?
A Robz… just shorten my email Robzid… no particular reason
Q What is the last book you read?
A Book …. Im more of a article reader … I really don't remember…
Inverts
40 Hermit crabs
5 Peppermint shrimp
2 Sally light foot crab
2 Cleaner shrimp
Q Football or basketball?
A SURF!!! SOCCER!!!
Q Scotch or burbon?
A Scotch
Q Do you have any advice for those folks whom are new to the hobby.
A Please do a lot of research read the forums there is so much knowledge and articles online don't go out there starting a tank without good planning.
Q Things I wish I knew 6 years ago:
A Winning Lotto numbers?…. LOL