WAMAS Tank of the Month
| | |
| --- | --- |
| | Scott Friedman (Scott711) |
Congratulations Scott, on being selected tank of the month.
About the Tank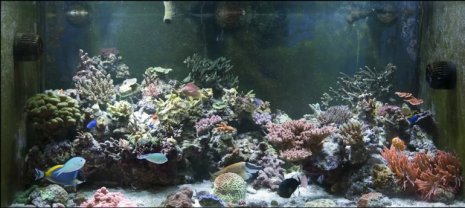 Experience in hobby
Favorite Fish
Powder blue tang
Yellow tang
Regal angel
Pinktail trigger
Gold spot rabbitfish
Foxface
Mystery wrasse
Leopard wrasse
Pylei wrasse
Percula clowns
Q How long have you been doing this?
A 15 Years.
Q Who got you into the hobby?
A My dad, working at a aquarium shop since I was 15.
Q Who in the hobby most influences you?
A Rik, Chris Thomas, Justin Casp.
Tank setup and equipment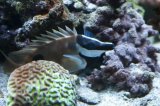 The tank is a 120 gallon display tank with a 50 sump, 10 gallon refugium, and 38 gallon NAGA frag tank. Primarily SPS with some LPS. I run a DIY calcium reactor, Kalk reactor, and a media reactor for carbon and phosphate remover. 1 40 UV sterilizer. Everything is controlled by a Neptune Apex controller.
Q What is your maintenance schedule like?
A I do Water change every 2 weeks. This is made real simple by a in sump pump that I have connected to a hose that runs to my laundry basin. Flip a switch, wait a few minutes, and turn it off. I have a 50 gallon Pepsi drum with premixed salt water that I just pump back into the tank. I wanted to make it as simple as possible. I use filter socks, so those are changed ~once a week. Filter media is changed once a month.
Q How much time do you spend weekly?
A 2-3 hours a week, feeding, checking parameters, observing the fish/corals and maintenance.
Favorite Corals
Aquarium City red millipora
Tyree watermelon chalice
Bubblegum Chalice
Pink birds nest
Garf Purple bonsai
Red table milli
Meteor shower cyphastrea
Purple pavona
Blue polyp monti
Purple rim monti
Q Where do you keep your water parameters?
A Calcium ~400, alk is ~10 dkh.
Q What brand salt do you use?
A I have always used Instant Ocean.
Q What do you feed your fish and or corals?
A I feed a lot of different stuff. Primarily Spectrum pellets. I also make my own food which has about 20+ ingredients from 1 micron stuff, to bigger scraps for the bigger fish.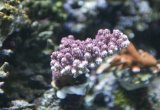 Q How do you maintain calcium/alkalinity?
A With a calcium reactor, kalk reactor and depending on what I have on hand for magnesium, I use a liquid or salt additive.
Q Do you dose anything? If so, how much, how often?
A Not really. Occasionally, ZEOvit amino acids and sponge power.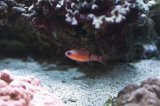 Q What type of lighting do you have and what scheulde do you have them on?
A The main tank lighting is provided by 2 x 250 20k Radium SE bulbs with Lumenbright reflectors and ICEcap ballasts, 2 x 110 VHO actinic bulbs, and 2 Powerbright LED's 10k/20k. Frag tank is 6 T5 bulbs.

MH - 10-6
VHO's from 6-830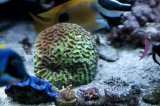 Q What kind of water flow do you have? How do you accomplish it?
A With my sps dominant tank, I wanted a lot of flow. I have an MP 20 and an MP 40 for the main flow on each side of the tank. I also have 2 small koralias in the back to keep sediment/waste from collecting behind the rock work. I also have my main pump for the system a Reeflo barracuda that is plumbed into two separate parts in the tank, one is through a seaswirl and the other is split by using loc line.
Q What are your future plans for improvement/upgrade of the tank?
A Good question, I want to design an automated water change schedule. I have been playing with doing it different ways and battle gravity. Possibly a light mover to eliminate one of the MH.
Q What makes your setup special or unique?
A Well, I built and designed the whole system from the demolition of the old wall, to the build of the new fish room aka man cave.
Q If you had to start from scratch, would you do anything different?
A Have a little more room in the man cave for stuff that you inevitably collect.
Q Do you have any advice for those folks whom are new to the hobby.
A Make sure you dip/inspect your corals when you get them. Even if you know they came from a reputable person/place. Try and make everything as simple as possible. This makes it easier to do things and less time consuming.
Personal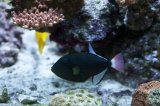 Q What are your other hobbies?
A Scuba Diving, Watching pitiful Redskin football, PC Gaming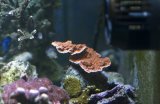 Q Who would you most like to meet past present or future?
A Hmm, Past would probably be Walter Payton from the Chicago Bears. I always enjoyed watching him as a kid and collected all his football cards. He seemed like a great professional on and off the field. You don't find many like him anymore. In addition, on a more personal level I would have also liked to spend more time with my grandfather who died when I was very young. He was an all-star softball player with many trophies for his pitching.
Q What is the last book you read?
A I read a lot of computer/information security books.
Q Why did you choose the screen name you did?
A Not very creative. It is my name and my birthdate,
Q Scotch or burbon?
A Grey Goose Vodka.
Q Things I wish I knew 6 years ago:
A Take everything very slowly. Don't jump on the latest bandwagon if things are working for you.