WAMAS Tank of the Month




Christina & Jason
(Mexicanjavafish & Jasonthefilterfreak)
Congratulations to you Christina & Jason, on being selected tank of the month.
About the Tank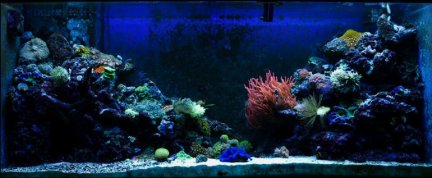 Experience in hobby
Fish
Hippo Tang
Orange Spot Blenny
Ocellaris clowns (mated pair)
Flame angel
I love them all.
Q How long have you been doing this?
A Tina: about 2 years now, Jason: about 4 -5
Q Who in the hobby most influences you?
A Tina: Jason got me in to the hobby. I pick up different styles and things that I like from just about every one in the hobby I meet, in a way, almost everyone has influenced me.
Tank setup and equipment
Q What is your maintenance schedule like?
A Water changes every few months…test parameters if something looks weird. Emptying the skimmer cup and cleaning the glass with my mag float every few days. That's about it.
Q How much time do you spend weekly?
A Maybe an hour or so...mostly just watching it.
Corals
Zoanthids & Palys
Softies
Some SPS
Mushrooms
Ricordea
I love Zoanthids of any kind!
Q Where do you keep your water parameters?
A Wherever my fish and corals like it? I don't test.
Q What brand salt do you use?
A Instant Ocean
Q What do you feed your fish and or corals?
A Mysis every once in a while, and what ever pelleted food there is daily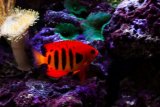 Q How do you maintain calcium/alkalinity?
A No, no, and nope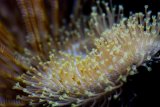 Q What type of lighting do you have and what schedule do you have them on?
A It's a filter freak retro kit, consists of Icecap ballasts, end caps, and reflectors other than that all parts from radio shack, home depot, and auto zone.
Q What schedule do you have the lights on?
A 12 hrs on/12 hrs off
Q What kind of water flow do you have? How do you accomplish it?
A The flow comes from 1 Algea Free Maxi 900 mod, 2 tunze nano stream 6055's, and a eheim 1262 return pump.
Q What are your future plans for improvement/upgrade of the tank?
A In the near future I plan on upgrading to a 125g tank.
Inverts
4 Anemones
2 Feather Dusters
1 Fire Shrimp
1 Serpent Star
1 Maxima clam
1 Fighting Conch
Hermit Crabs and Snails
Q What makes your setup special or unique?
A Two college students with workaholic issues built and maintain it on a very minimal budget, also the tank is topped off with TAP WATER... unfiltered. Via an ato kit from autotopoff.com
Q If you had to start from scratch, would you do anything different?
A I'd make sure the hood stays up. I mean I know I live 2 minutes from a hospital but I'd rather not frequent the ER with arm/head injuries thanks to a falling hood!
Q Do you have any advice for those folks whom are new to the hobby.
A Go with your gut and if you still have questions, post it on wamas! It also doesn't hurt to have someone on call…haha Jason.
Personal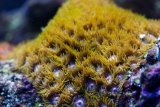 Q What are your other hobbies?
A Christina: All things art. Singing, drawing, painting, anything. Biking with Jason.
Jason: mountain biking, breaking my wrist while biking.
Q Who would you most like to meet past present or future?
A Christina: There are so many people I'd love to meet.
Jason: Future me with the winning lotto numbers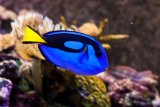 Q Why did you choose the screen name you did?
A Christina: I'm Mexican (half), I work for starbucks, and I'm like a fish….or a mermaid.
Jason: Had a couple of cannister filters, an in tank aquaclear powerhead filter, and some air driven sponge filters... I thought I had the baddest filter set up ever...
Q What is the last book you read?
A Christina: Change of Heart by Jodi Picoult…she's a really great author.
Jason: Inca Gold by Clive Cussler
Q Scotch or burbon?
A Christina…..19? Jason: Amaretto
Q Things I wish I knew 6 years ago:
A Christina and Jason: That this existed as a hobby and not just at the aquarium? I don't know many 13 year olds that could handle this sort of thing.