WAMAS Tank of the Month
| | |
| --- | --- |
| | Howard Isenberg (HowardofNOVA) |
Congratulations Howard, on being selected WAMAS tank of the month.
About the Tank
Fish
2 Firefish
1 Tennenti tang
2 Percula Clownfish
1 Swissguard Basslet
2 Blue Hippo Tangs
1 Copperband
1 Heraldi Angelfish
Blue Neon Gobies
2 Green Mandarin
1 Yellow Eye Kole (Frag Tank)
1 Disappearing Wrasse
Experience in hobby
Q How long have you been doing this?
A My father and I had over 20 FW tanks when I was young, but I didn't get into SW until about 2003.
Q Who got you into the hobby?
A My x called me about a lady whose husband abandoned her, 5 kids and their 30g tank. Sad story, but the free tank got me started! I've spent a little since!
Q Who in the hobby most influences you?
A There has been several. I met Craig Kuhn at "The Reef Tank"/WAMAS Social to get into WAMAS, Rik Leishman, I got my first coral from him (Still have, Sarcophyton), but by far, Chip "Flowerseller" Frederick, have all become great friends!
Tank setup and equipment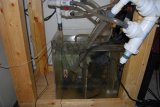 I have a 90g Jeff "NAGA" Haddock Acrylic 3'x2'x2' Reef Tank & sump, MAG18 going to 15w UV Sterilizer, GreySeas Media Reactor & 1" SS in Maintank & 30g Frag Tank. The system also includes a MAG18 to DIY Chip O'Downdraft Skimmer, Three Dual T5 36" 39w Retro Kits (BRK) on Main Tank and Two on the 30g Frag Tank. The stand/canopies are custom made and I dose Kalk and calcium.
Corals
Leathers
Zoos
LPS
SPS
Millis
Tyree LE Green Polyp Toadstool
Superman
Sunset Monti
Tricolor Monti
Australian Super Green Blastomussa
Red Echinophyllia
Q What and Who turned you on to T5's? Why? What is your experience with them?
A Jean Marie' Le Grand "JMsAquarium", his growth was awesome and great colors! In this area, the less heat you have to deal with the better IMO!
Q What is your maintenance schedule like?
A I do 5g+ water changes weekly. I clean the glass as needed, Change Carbon every 5-6wks. Have to admit, busy schedule makes this tough, but working to automate as much as possible. Using ACJr now and working great!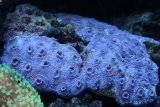 Q What are your future plans for improvement/upgrade of the tank?
A I've had a KolpC Calcium Reactors for over 2yrs, time to hook it up! Hope to buy a house next year and plans for a 300-500g system. I plan on keeping my custom 90g Acrylic Tank from Jeff "NAGA" Haddock as long as I can, But in about a year or so when I hopefully become a home owner again, I want to put in a In-Wall Tank about 8'x4'x30". I love the depth that the 4' give in landscaping and I like the 2' depth of my current tank, but don't want to go more than 30" on any future tank! Do my scuba diving in the ocean!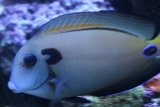 Q What makes your setup special or unique?
A My setup is very low tech. my setup is designed to be hands off.
Q We all have weird witches brew that we use on our tanks, what is your favorite homemade reef concoction and what does it helps with? Have you seen any success/improvement after using it?
A Outside of Kalk drip, I have not tried alot of chemicals on a consistant basis. Only concoction I can recommend is my frozen feed mix (Notice all the fat fish): 1 piece Krill, Cyclopeez, Mysis and a couple cubes of Formula One in plastic container with RO/DI and thawed in frig. Feed fish once in morning and again in evening. Will add a couple of Silversides for Anenomes which I feed 2x a week with 1/2 piece each.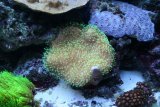 Q What is the most off the wall method you use on your tank that not many other reefers would dare to try?
A I guess just KISS! Basics work!
Q What is your most successful propagated coral?
A After all these years, still learning! I would say Leathers and GSP!
Q What species of fish would you like one day see it bred in captivity? Why?
A My Crossguard Basslett, Beautiful fish, but a bit pricey!
Personal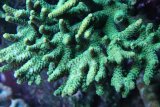 Q You have been a part of WAMAS for over 4 years, what is your most treasured memory in the club?
A While alot of good memories! I guess winning the Free Scuba Lessons from Adventure Scuba in Chantilly! Was awesome learnng how to dive with my daughter Lindsey and later Jessica!
Q What are your other hobbies?
A Too many: Archery Hunting, Fishing, Landscaping and best is Diving with daughters (Need to do more!).
Q What kind of music are you into right now?
A Everything from RocknRoll to Classics, not much into Rap.
Q Who would you most like to meet past present or future?
A John Wayne, W and Charlton Heston
Q If you could go one place on earth where would it be?
A Australia.
Q What draws your attention about Australia?
A Actually New Zealand! My Grandfather, "God rest his soul", use to tell me about there during his visit in WWII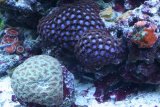 Q What is the most interesting place (related to the hobby) you have visited in the US and what made it so special?
A Diving with my daughters in the Keys!
Q With all this pollution on the reefs ecosytem, what are you doing to contribute to save the reef?
A I will not dump ANY algae or tank debris/waste into the toilet or sink!! Every water change will go to the lawn, not in the drains!
Q Why did you choose the screen name you did?
A Howard of Northern Virginia.
Q Football or basketball?
A Anything Pittsburgh, Steelers, Pens, Pirates.
Inverts
Coco Worm
2 Huge RBTA
Neon Blue Striped Hermits
Sallie Hermits
Red Tipped Mexican Hermits
Cerith Snail
Nassarius Snail
Chestnut Snail
Q Scotch or burbon?
A Captain Morgan Rum, Remy Cognac and Tequila
Q The piece of equipment you think is the best investment?
A Long handled forceps and Refractometer!
Q Money wasted?
A Cheap Plastic Salinity Checkers, should be outlawed!!
Q In your experience, what words of wisdom would you share with our young upcoming reefer population?
A Learn the Basics, READ, LISTEN and ASK QUESTIONS!!!
Q Where would you like to see this hobby in the next 10 years?
A 100% Aqua Cultures, but if we can get to a point where at least 1/2 of the corals are home grown that would be awesome! It really worries me with all the recent "NEW Aussie Corals" out there that somewhere a reef is being wiped out in the name of a buck!