Hold the date for FragFest! Sunday, July 22, 2018 at the Charles Wesley United Methodist Church (McLean, VA)

What is FragFest? Check out the FragFest FAQ here.

Speaker: Ned and Anna DeLoach, Reef divers and writers extraordinaire

Topic: The Mysterious Beginnings of Reef Fish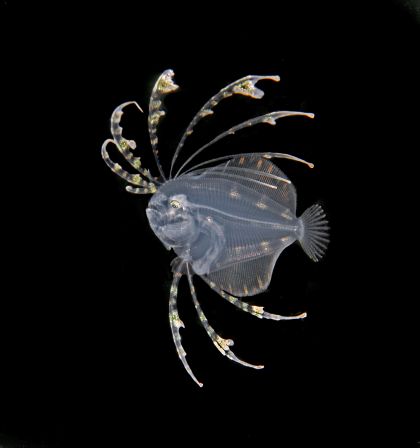 Reef fishes start life as tiny, buoyant eggs spawned into open water by the thousands. The castaways are carried by the currents out to sea where they embark on one of the most perilous odysseys in the animal kingdom. Ned DeLoach, author of Reef Fish Behavior, takes you on a visual voyage of the offspring's miraculous oceanic metamorphosis from vulnerable yolk sac larvae into fast-swimming eating machines, unlike any fish you've ever seen, bedecked with spikes, spines, billowing fins and streaming floats. Weeks later the few survivors make a second dramatic transformation before riding night tides back to the reef where they spend the remainder of their lives.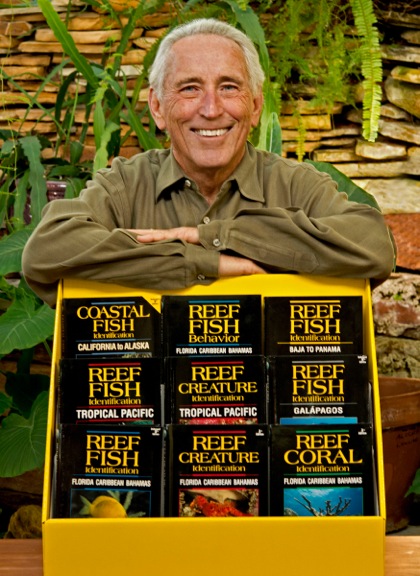 After college Ned DeLoach moved from his childhood home in West Texas to
Florida so that he could do what he loves best—dive. In 1971 he completed his first
diving guide to the state, Diving Guide to Underwater Florida, currently in its 11 th
edition. Though the 1970's and 80s he was active in Florida's cave diving
community and writing dive/travel piece for underwater magazines. In the mid-80s
he began working with is longtime business partner Paul Humann as co-editors of
Ocean Realm magazine.

In 1989 the pair published their first field guide, Reef Fish Identification,
Florida, Caribbean, Bahamas, which launched an extensive library of visual marine
life field guides for tropical oceans around the world.

Acquiring the thousands of photographs of new and undocumented marine
species for the guides in a never-ending quest that keeps Ned underwater for much
of the year scouring reefs, walls, sand flats, rubble fields, sea grass meadows, surge
zones, algae beds, and often poking around dock pilings and occasionally beneath
island out houses. Currently Ned and his wife Anna, who reside in Jacksonville,
Florida, are compiling a new edition of Reef Fish Behavior, first publish in 2000, and
writing a column entitled Encounters for Alert Diver magazine.

*****

This is a MEMBERS ONLY summer meeting SUNDAY, July 22, 2018, 2:00 - 6:00 p.m. (We're starting a little later because setup takes longer for this meeting.)

* You can join WAMAS at the door for $20.00 individual; $35.00 family = 1 year of membership, access to member area of forum + free frags at this meeting.

2:00 PM Doors open to WAMAS members (only)
2:40 PM Club business
3:00 PM Speaker Ned and Anna DeLoach
4:00 PM Break
4:15 PM Raffle!
4:45 PM Frag Giveaway (Yes, FREE frags!)
5:45-6:15 PM Cleanup

Location will be:
Charles Wesley United Methodist Church's all purpose room
6817 Dean, Dr
McLean, VA 22101

***********
Raffle Prizes*
- 1-year subscription to Coral Magazine (1 chance to win) - From Reef to Rainforest Media
- $100 Gift Certificate (2 chances to win!) - From Avast Marine
- Mega MaxCap 90-GPD 5-stage RO/DI, $349 value (1 chance to win) - From SpectraPure
- Reef Octopus Classic 152-S Protein Skimmer, $299 value (1 chance to win) - From CoralVue
- Geisemann Professional Test Kits, 9 kits total (1 chance to win) - From SaltwaterAquarium.com
- Complete Water Change Kit (1 chance to win) - From Marine Depot
- $200 gift certificate for custom PVC sump at Pure Reef Systems.
- Frag system with frag racks built by Pimped Out Aquariums
- Two boxes of Reef Crystals (2 chances to win) - From Exotic Reef Creations
- 12-pack (one year's worth) of Chemipure nano (2 chances to win!) - From Boyd Enterprises
- Reef Nutrition: Samplers of their bottled reef food products! (2 chances to win!)
- Reef Nutrition: Chroma Boost pellets (three 3-ounce bags raffled together)
- LRS Reef Frenzy food: 2x nano Frenzy; 2x Reef Frenzy; 1x Fish Frenzy; 2x Herbivore Frenzy (7 chances to win) - From LRS Reef Frenzy
- 1x 5 oz. Pro Breeder and 1x 5 oz Ultra Worm Medley flake food. - From Cobalt Aquatics
- Mixed frag pack with 20 corals from FishnReef.com
- Also donated frags from our sponsors and members selling
Door Prizes:
This meeting there will be multiple door prizes to win.Super deluxe fragging kits with everything you need to get started.
Special thanks to theses sponsors. Please support them & say thanks next time you shop with them. You can find their website address by visiting their forum or the sponsor page on the WAMAS website.

WAMAS Platinum Sponsors
- Air, Water & Ice
- Avast Marine
- Blue Ribbon Koi
- Capital Aquarium
- ChemiPure (Boyd Enterprises)
- Dr. Mac's Pacific East Aquaculture
- Exotic Reef Creations
- FishnReef.com
- LRS Reef Frenzy
- Marine Depot
- MASNA
- Pimped Out Aquariums
- Premium Aquatics
- Pure Reef Systems
- Reed Mariculture (Reef Nutrition)
- Reef eScape
- Reef2Rainforest Media (Coral Magazine)
- SaltwaterAquarium.com
- Supreme Reefs

WAMAS Banner-Only Sponsors
- Cobalt Aquatics
- Coralvue
- Jellyfish Art
- Live Aquaria
- Spectrapure
- Two Little Fishies

Get Free Raffle Tickets!
We have a "bring your receipts" program where if you bought stuff from one of our sponsors since the last meeting you can bring your receipts to the check-in desk to get one free raffle ticket for every $25 that you spent at a sponsor.

We don't need to keep the receipts, but would like to see them in hardcopy form (not on your phone because it takes too long) to give you the free tickets.

Sponsors on-site:
Dr. Mac's Pacific East Aquaculture
Blue Ribbon Koi


Members selling on site:
Mr Chalice
Piper27
copps
gws3
Leishman
molcott

Watch this space for more information to be made available as it arrives!